Subscribe
X-Mas Give Back Event 2022
December 15, 2022 @ 15:00

-

21:00

Free
You are invited to our Kappa Data X-Mas Give Back event on Thursday, December 15! A festive afternoon of winter fun, mulled wine, Christmas gifts and…. Help others brighten up their Christmas! During the X-Mas Give Back Event we are happy to collect donations for 2 charities. We will end the day with tasty Christmas snacks and a networking party with all attendees and parties associated with Kappa Data.
So be sure to sign up for some X-Mas fun with us!
What to expect?
What?
Come to our Christmas event for an afternoon and evening filled with hot drinks, tasty Christmas desserts, Christmas gifts etc. On top of that, you can help others brighten up their Christmas! During our X-Mas Give Back Event, we will focus on 2 charities, namely De Warmste Week (with a theme of poverty) and our own chosen charity VoedselOndersteuning Ghent. We like to collect donations and distribute them to those to help them have a warm Christmas. Find out below what materials you can collect.
When?
Thursday, December 15, 2022 at 3 p.m. to 9 p.m.
Where?
Christmas market at Kappa Data Headquarters in De Pinte (Grote Steenweg 18, 9840 De Pinte).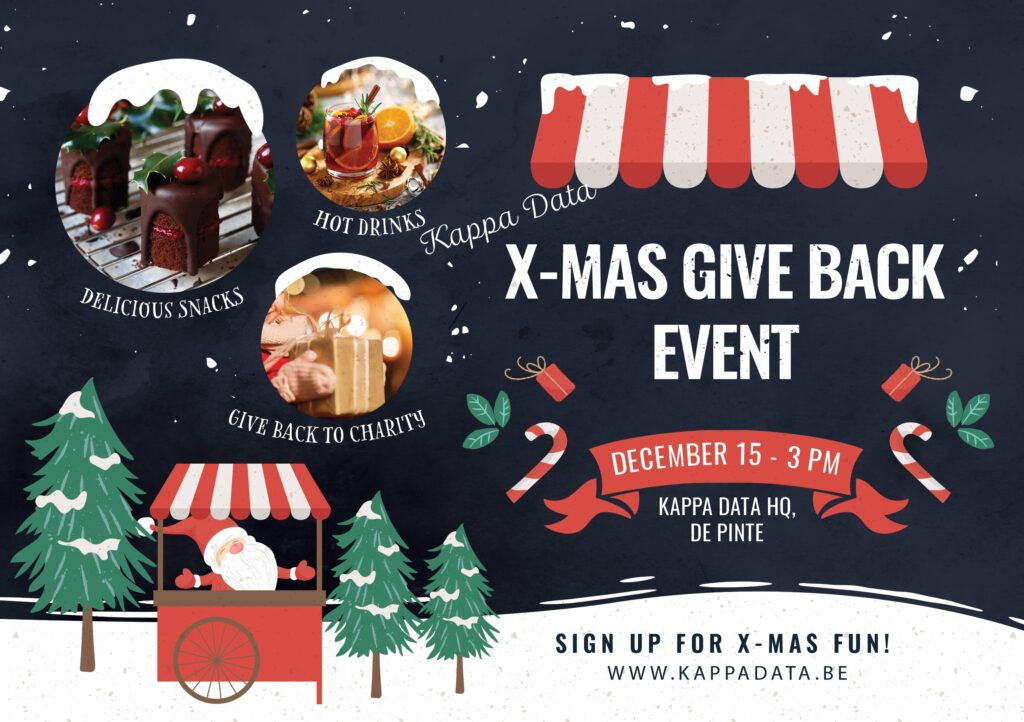 Support charity, together with Kappa Data

During this Christmas event, we focus on 2 charities to give people a warmer Christmas. Both Kappa Data and its vendors, will be giving a large donation to these charities. Do you want to help as well? Support the charities or give a little donation immediately via your banking app (a QR code will be available). Below you'll find more information about the charity causes and what you can raise:
De Warmste Week: This is a solidarity action of VRT (Vlaamse Radio- en Televisie Omroep), which is organized annually in the week before Christmas, from December 18 to 24. Through the website you can choose a charity for which you want to organize an action. The focus this year is Child Poverty.
VoedselOndersteuning Gent vzw (VOG): This is our locally chosen charity. It supports initiatives that fight hunger and poverty in Ghent, mainly by providing financial support for the collection and distribution of food and other basic needs in the Ghent region. Support this umbrella organization in Ghent for multiple organizations.
What materials can you collect?
You can support the charities by collecting the material below. The idea is that you bring this to Kappa Data HQ, we will then take it to the organizations.
Clothing
We are collecting the following clothing:
Warm children's clothing (0-12 years).
Warm children's coats (0-12 years)
No socks or underwear (!)
All clothing: from shoes to coats (0 – to 4 years | size 104)
Only clothes that are still in good condition!
Toys
Through Enchanté we collect toys. You can also collect your Christmas toys for 'Kookploeggent', preferably wrapped in Christmas wrapping paper. We obviously only receive toys that still work.
Personal care products for babies
We collect care products through Baby-Nest. These are standard baby care products such as bath foam, lotion or baby oil.
Diapers 
Through Baby-Nest we collect diapers, preferably pampers size number 5. This size they desperately need and can be found in for example the Kruidvat.
Thanks to our vendors
Thanks to these vendors, we are able to organize our X-Mas Give Back event and support the charities.
Allied Telesis, Barracuda, Blackberry, Cato Networks, Commscope Ruckus, Juniper and Sophos.
Mark December 15 in your calendar and register now!
We look forward to seeing you there!