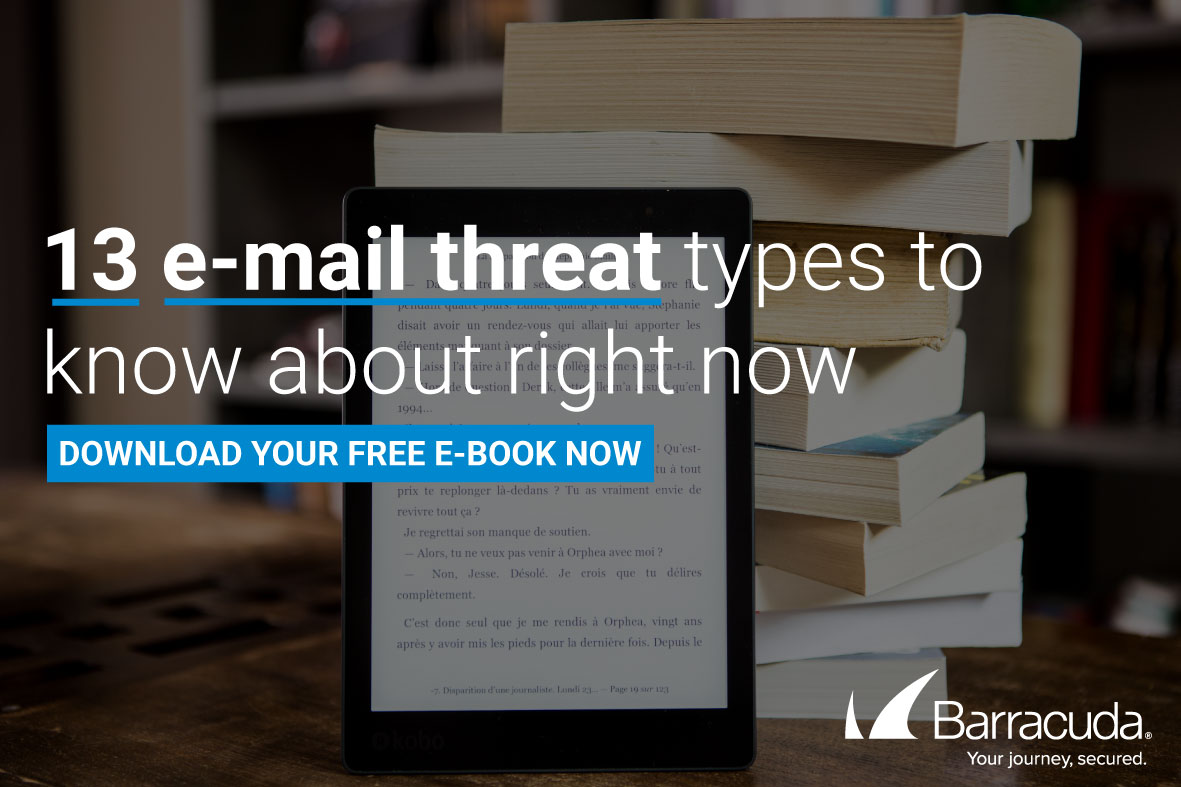 05 May

Ebook: 13 email threat types to know about right now

A cyberattack can affect your business in many ways, depending on its nature, scope and severity. After all, did you know that a whopping 91% of cyber attacks start with an email?

As email threats evolve and multiply, it's hard to keep up with them all and stay protected from the many different types. Fortunately, Barracuda can help! Barracuda Networks identified 13 major types of email threats after research. Because once you understand the nature and characteristics of these 13 threat types, you'll be much better prepared to build the best protection for your business, data and people.
Protect yourself from all 13 types of email threats
Today, traditional email security solutions no longer provide sufficient protection. Businesses must also effectively protect themselves against sophisticated email threats that are often able to bypass defenses by using backdoor techniques, including spoofing, social engineering and fraud, to penetrate networks and cause havoc.
Multi-layered security strategy

While a comprehensive defense against email gateways is a solid foundation, a multi-layered security strategy dramatically reduces vulnerability to email attacks and helps better protect the business, data and people.
There are a number of different attack techniques that hackers use to penetrate organizations. Understanding the nature and characteristics of these threats helps in choosing the best protection solution.
Barracuda Email Protection Plans
You want to prevent a spear phishing attack as soon as possible. Barracuda to the rescue! Add protection to your Microsoft 365 Package with the Email Protection Plans from Barracuda Networks. You can use and purchase this bundle of about 20 components in small product groups.
Interested in more? Discover all about the Barracuda Email Protection Plans website created especially for you. The website is only available in Dutch. If you do not speak Dutch, do not hesitate to contact us.
Download our free e-book

With the "13 Email Threat Types You Need to Know Now" eBook (English), Barracuda offers an in-depth look at the major email threat types, including the risks and impact on businesses, and how AI and API-based inbox defense can address the gaps in the email gateway and help provide total email protection from attacks.
Discover these interesting insights and fill out the form below to download the e-book for free.