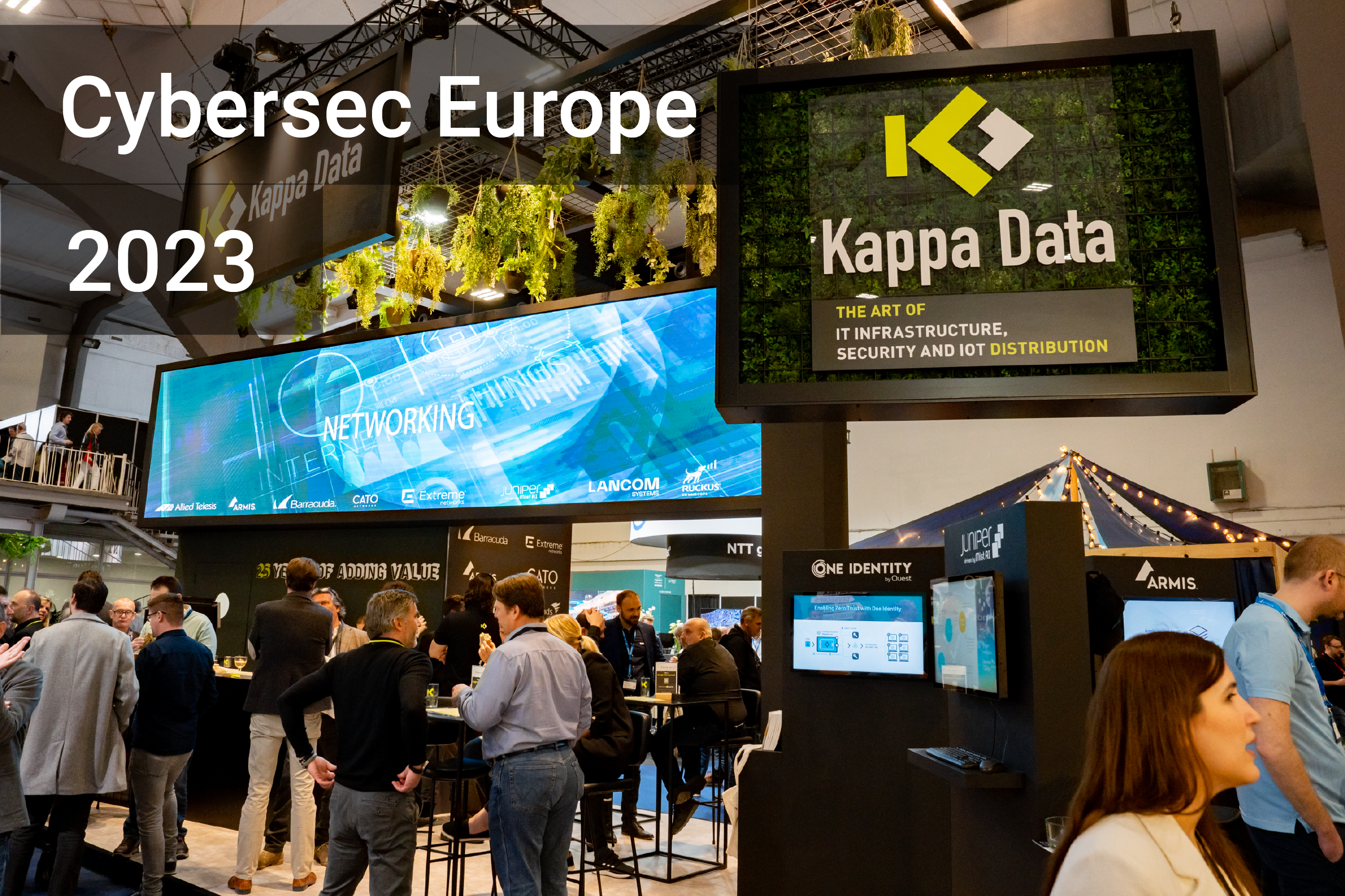 26 Apr

A day in the life of … Kappa Data at CyberSec Europe 2023!

Cybersec Europe – the successor of Infosecurity, Data & Cloud Expo Event – is a tradeshow you really can't miss as an IT professional. It offers an interactive program on an inspiring exhibition floor, with the focus on the world of IT transformation, including associated challenges and solutions. 

The perfect oppportunity to meet exhibitors and collegues in person, to network and attend knowledge sessions & workshops if you ask us. Kappa Data was present, and how! Discover what our booth looked like, what we provided to put our vendors in the spotlights, and how we spoiled our guests with gifts, goodies, snacks and refreshing beverages.
Kappa Data and its Vendors
Kappa Data is nothing without its vendors, that's why a big part of the booth was filled with pillars. Each side of a pillar was dedicated to a vendor, which gave us and them the opportunity to present one of their key products, give a demo, have a talk,… all with visual support. Visitors on Cybersec Europe 2023 had the opportunity to see how the products and services of our vendors could help them.
What did they talk about? First off all, one of our newest vendors, One Identity, (which isn't entirely correct, as we already had OneLogin, part of One Identity, in our portfolio for years) presented what they could offer your organisation. In short: One Identity in a nutshell.
Secondly, Sophos provides us with more information about their Adaptive Cybersecurity Ecosystem (ACE). A solution which leverages automation and human operators to deliver protection that constantly learns and improves.
Next up, Juniper Networks put their focus on their Ai-Driven Enterprise Solutions (AIDE). Wired, Wireless & SD-WAN driven by Mist AI.
Armis, the leading platform for OT, IoT & IT asset management in cybersecurity, was also present to help you out. Unified Asset Intelligence Platform for the Modern Enterprise was their topic of choice.
As we all know, Barracuda Networks has always tried to build a safer world for you and me. They explained us which steps to take to achieve said goal.
Kappa Data of course had its own pillar to get to know us even better. You could also learn about other vendors like CommScope Ruckus, Alied Telesis and SolarWinds.
You didn't have the time to stop by? Don't hesitate to contact us for a one-on-one talk or demo. Curious to take a look at our dedicated vendor pillars, check out the pictures:
Although it's not conventional at a standard tradeshow, most of the booths at Brussels Expo had something to eat or drink. Kappa Data surely wasn't an exception! From tea and coffee in the morning, to wine, cava and even two draft beers, we had it all.
Getting hungry after a few hours of exploring the cybersecurity world? We've got you covered! Sandwiches, vegan crispy sushi, homemade parmesan chicken wings,… Anything else we're missing?
As you can see, taking care of our customers is our number one priority.
On a more serious note; being able to present your products, having a bite to eat and leave with some new gadgets is fun, but that is not what it's all about. It's about talking to all your parters in just a fews days time . It's about finally seeing that customer in real life. It's about showing the world what your company and its partners stand for.
The results? A bunch of smiles, handshakes and a promising future!
We're already looking forward to next years edition!
Do you want to see more pictures of the exhibition? Take a look at our photoalbum (click on the button below).
If you want, you can share the pictures from the album. Just make sure you tag us (@kappadata) with the right hashtags: #kappadata #bettertogether #cyberseceurope2023